Welcome to the Victoria, Duncan & Nanaimo Regional Page!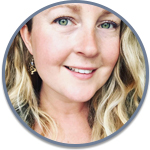 Meet Allison Hutchinson
Victoria, Duncan & Nanaimo Regional Manager/Behaviour Interventionist
Allison.Hutchinson@pivotpoint.ca
Allison is now in her 9th year with Pivot Point. When asked about her tenure, she responds that she is always learning and growing in her chosen field. The inspiration from her fellow team members and the families she supports is rewarding in ways that make her feel proud of the work she does.
"It's important to me that we do what we say we're going to do, and this starts by working closely with each family to identify their goals and then using the various professionals available within Pivot Point to put a plan in place to achieve them."
About Services in Victoria, Duncan & Nanaimo
The past year saw great change in the Vancouver Island Region. Regional Manager Allison Hutchinson and her team moved to a new location in Duncan which allowed them to double the size of their centre. They've also added another office to the region in Nanaimo.
Allison's team of approximately 25 staff, continues to grow with the addition of two new Behavior Consultants to share their expertise with the growing demand on the Island. The professionals that provide support to families include: Behaviour Consultants, Counsellors, Education Consultants, Speech Language Pathologists, Occupational Therapists, Family Support Workers and Transition Coordinators. With Lead Instructors at the helm, the Duncan Community Classroom is in its 4th year, while our Nanaimo Community Classroom is in its 3rd year as they continue to support the growing demand in this Region.
Allison was extremely excited to begin offering Complex Care Services in the Cowichan Valley. These services have resulted in fantastic growth and development for those supported.
The effects of the pandemic are overwhelming to many families however, Allison and her team are trained to meet that demand. In Spring of 2020 her 'tech-savvy' team members launched a few Online Events, such as, HANG Online: Minecraft/D&D and Lego to provide an online platform for kids to meet socially. These groups have been able to transition to other teams around the province enrolling children from near and far. The positive outcome saw friendships form and continue as a result of meeting online through these Pivot Point Group Activities.
Allison looks forward to the continued growth within the Community Classrooms in Duncan and Nanaimo that include more diverse learners who thrive in our adaptable, inclusive learning environment. There is a constant sharing of ideas, and celebrations of the growth the team sees in their clients that they feel privileged to work with, which has helped them to realize their goals, and to live their best life possible.