Welcome to the Thompson Regional Page!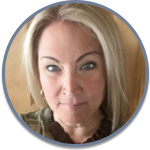 Meet Renee Stein
Regional Manager for the Thompson Region, including Kamloops, Barriere, Salmon Arm & Merritt
Renee.Stein@pivotpoint.ca
Renee knew early on in her career that she wanted to work with children and youth with diverse abilities, understanding the many challenges they face with the complexities between their mental, emotional, and physical health.
Graduating 1995 with a Psychiatric Nursing degree, Renee has a long history of supporting families and individuals working with mental health concerns and addictions and has worked in Intensive Care Psychiatry, Detox, and Counselling.
Her career includes working with children and youth at the Maples Adolescent Treatment Centre, as well as being a Level 3 Foster Parent. As a manager for Community Inclusion, and an Executive Director for street entrenched persons, Renee applies her skills with compassion, and genuine caring.
Renee is excited to continue her compassionate care approach with all those that she works with here at Pivot Point. Her strong background shines when she sees firsthand the positive impact she can help cultivate in the lives of those she serves.
She is most proud of her role as a mother to four amazing boys (one son has ASD, two with learning differences).
Fun Fact: Renee once lived off grid for 5 years with her sons operating a goat ranch with 200 head of goats.