Pivot Point Re-Envisions the PATH to Your Future!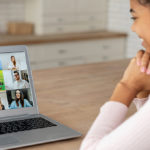 January 3, 2022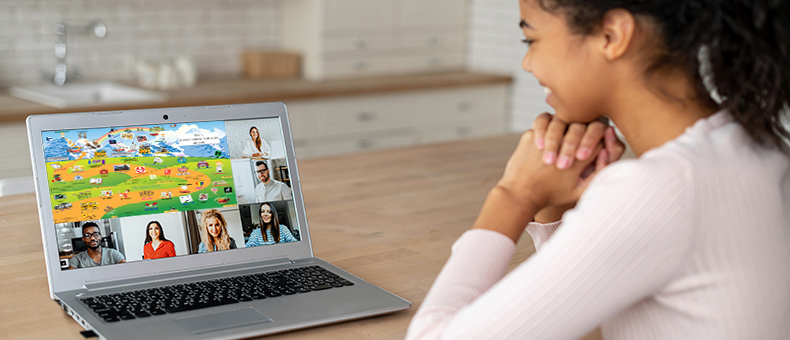 Co-Authored By: Crystal Thompson, Director of Operations &
Sarah Falk, Regional Manager Kamloops & Clinical Counsellor
---
Pivot Point Re-Envisions the PATH to Your Future!
Have you ever dreamed about a better future for yourself, or for someone else, and wondered how to bring those hopes into reality?
PATH is a Person Centred Planning tool that has been used extensively around the world since the 1980's. It is a carefully designed group or family process that brings people together to create a shared vision for the future, and then to launch that plan into action!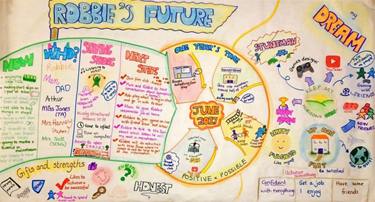 At the heart of the PATH process is the Pathfinder. This is a person, or group of people who decides to meet together with friends, family and community supporters to build clarity about the route into a better future, and to spark the inspiration to start taking those steps forward.
A PATH journey begins with participants working together to define their biggest dreams for the individual or group: This is called a "North Star" statement because it emotionally guides everything that follows. Pathfinders have the opportunity to imagine their ideal life or ideal future, without the need to filter out any of their hopes or dreams. This phase of the journey is highly meaningful and engaging as everyone gets involved!


After defining all their dreams, participants then work together to refine these dreams into a list of "positive and possible" goals to focus on.
Though inspired by the North Star Statement, these positive and possible goals are the ones the team will commit to achieving together over the coming 12 to 24 months.
The focus of the PATH journey then shifts back to the here and now, as the pathfinder and team take the time to consider where the Pathfinder is at today. This creates a strong sense of tension between where they are and where they want to be. And this tension ignites the motivation and commitment needed to follow a realistic and inspiring plan to reach those goals.
The PATH journey then helps the Pathfinder, support team, and staff to create that plan which includes each of the specific tasks and action steps needed to lead from the here and now, to the future where those goals are achieved.
A PATH journey is often used as the starting point of any type of transition planning. This may include a child moving from elementary school to high school, a teen moving from childhood to adulthood, an adult moving out of the family home, or simply an individual or couple wanting greater intention and purpose for what lies ahead. Regardless of who uses it, the two-hour PATH process is the "kick-start" to begin moving towards that better future.
At Pivot Point, we have been using the PATH process to help hundreds of children and adults learn to reach for the stars, while also helping them take the steps necessary to make those dreams come true.
Taking PATH Online
But now – thanks to COVID – Pivot Point has created a better, easier and SAFER way for anyone to be able to participate in the magic of the PATH goal setting and transition planning process: We redesigned it, and moved it online!

Pivot Point's new Online PATH is still a team or family process, as pathfinders are encouraged to invite friends, family members, teachers, social workers, coworkers, or anyone else who is important in the pathfinder's life. But now, pathfinders can be joined by friends and family living anywhere in the world, simply by joining the video conference! The new Online PATH process can be used with groups of 5 to 25, as a celebration of what is to come!
And just like a traditional PATH, our Online PATH is co-lead by a Pivot Point trained PATH facilitator and a Digital Graphic Reporter! These two staff work together during the Online PATH, to inspire discussions and explore possibilities, while building the personalized PATH image – in real time – that tells the pathfinder's story.
As before, the new Online PATH journey is still a visual process. We add original family photos to images from our vast picture library to create a customized poster that vibrantly brings dreams to life! The poster can then be printed and taped on the pathfinder's wall as a constant motivator and reminder of the future they are working towards.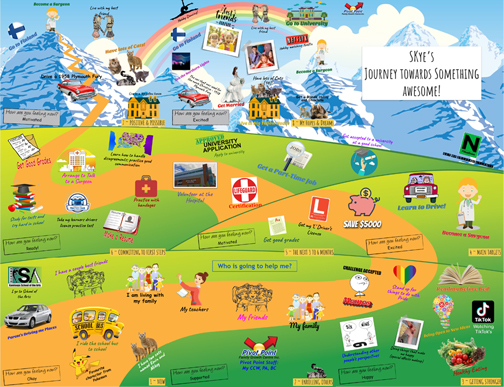 We believe the new Online PATH is one of the best ways to create massive motivation, clarity, and teamwork towards common goals. It leaves the pathfinder feeling empowered, inspired, and supported by those who matter most to them. And the process leaves their friends, family and community supporters knowing exactly what to say and do to support the pathfinder on each stage of their journey towards success!
To learn more about our new Online PATH, visit our Transition Planning page.
For a free consultation, or to schedule an Online PATH for yourself or someone you love, Request a Meeting with us today!