15 Anniversary: Spotlight on Ashley Dedels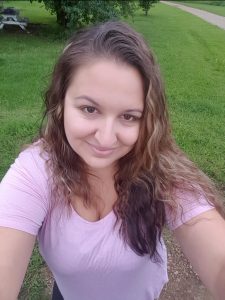 Being able to celebrate 15 years serving families with diverse abilities is a testament to our hardworking, incredible staff. The Pivot Point Family believes in making a difference, and today we'd like to highlight someone who truly embodies our guiding principles and values.
Ashley Dedels has worked in the Social Services field for nearly ten years. She began with mental health, and later worked in youth counselling. After spending some time working in the field, Ashley decided to head back to school and fell in love with Behaviour Intervention. It was then that she found Pivot Point and has been a valued member of our team for the past three years.
Ashley does it all here. She works as a family support worker, behaviour intervener, child care worker, life skills worker, job coach, respite and recreation worker, and lastly a teaching assistant in our dynamic Chilliwack Community Classrooms.
"Seeing progress with the kiddos I work with is the best part of my job. Working in the community classroom allows me to not only teach academics, but also help the kids socialize, play and have fun! Seeing the joy on families' faces when they see their kids accomplish a goal is why I do what I do."
Looking back on her time here at Pivot Point, Ashley reflects on her growth as a person. "I have learned so much about myself while working in this field, and I continue to learn how to better myself day by day. The support from staff and management have made me feel like Pivot Point is not just a workplace, but a family."
Cheryl Elderton, Chilliwack Regional Manager, mirrors Ashley's thoughts about Pivot Point's supportive workplace. Her team is a close-knit family and she is thrilled to have Ashley be a part of it.
"Sunshine, smiles and positive energy! Above and beyond with her attitude, client care and support! That is our girl Ashley!" exclaims Cheryl.
To learn more about what the rest of the Chilliwack team is up to, check out the Chilliwack Regional Page or contact head office to set up a consultation.