Keeping Our Communities Safe:
March 13, 2020
Dear Pivot Point staff, persons served, and friends,
I am writing to you today to provide information regarding the coronavirus (COVID-19) outbreak, and what we at Pivot Point are doing in response.
We have over two thousand members in our Pivot Point communities across British Columbia, including our staff, persons served, and everyone's families. As our valued Pivot Point family, your safety has always been and remains our number one priority. We recognize the importance of reducing the spread of the virus and taking steps to protect ourselves and the people we serve in our communities.
From the onset of the coronavirus, we have been following and in contact with the Public Health Agency of Canada (PHAC), BC Center for Disease Control (BCCDC), and other agencies to ensure that we are aware of, and aligned with, their recommendations.
Pivot Point's Pandemic Plan:
Rest assured that Pivot Point has a Pandemic Plan that is consistent with the top authority's recommendations for infection prevention and control. In addition to our high standard for cleaning, reducing the spread of disease, making accommodations for sick staff and clients, and daily maintenance schedules (which have always been part of our accreditation practices), we have introduced these additional measures to increase sanitization and protection:
Frequent and thorough washing of hands for 20 seconds or more.
Refraining from touching one's face (eyes, nose and mouth).
Coughing and sneezing into the elbow.
Refraining from hugs, shaking hands, high fives, etc. as well as from sharing equipment, tools (pens, calculators, etc.) and food.
Enhancing cleaning and sanitization of hard surfaces, door handles, toys and other learning materials, counters in washrooms and kitchens, seat belt buckles and technology (keyboards, mouse, etc.)
Intentionally avoiding physical contact and interactions with groups of people (choose phone calls and video conferencing over in-person meetings, temporarily replace groups activities with 1-1 options, etc.)
Staying home if you are showing any signs of illness.
Staying home for two weeks (i.e., the incubation period) if you have recently travelled back from a country with a significant outbreak; you should be free from symptoms for two weeks prior to making physical contact with anyone.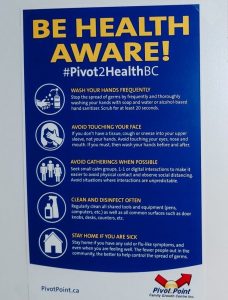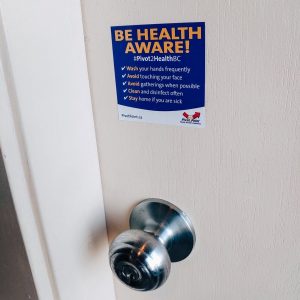 Be Health Aware Campaign – #Pivot2HealthBC:
We ask that all individuals who provide or access services at Pivot Point, to not only comply with these measures but to join us in inspiring others to BE HEALTH AWARE!
We strongly believe that each one of us within the Pivot Point family will be safer and more comforted if we work together through this challenge. Please follow and participate in our social connection campaign via #Pivot2HealthBC. Through these feeds, we hope to share helpful insights, reminders and positive encouragement as we all learn to embrace wellness and to give each other the courtesy of being flexible and understanding through difficult times.<br>

Please refer to the following websites for current information:
In the case of a COVID-19 outbreak occurring within any of our programs or communities, we will be cooperating with public health authorities to assist those who are infected, investigate the incident and inform those who may be impacted.
Your local Health Authority
We hope this gives you confidence in the actions we are taking on behalf of all of the Pivot Point family. We remain committed to providing you a safe environment and we look forward to continuing to provide the same high quality of service and support that you have come to expect from Pivot Point.
We will provide updates online regularly as things evolve. However, if you have any questions, please contact us at info@pivotpoint.ca or your local Regional Manager.
Sincerely;
Steve Cunningham,
Executive Director: Pivot Point Family Growth Centre Inc.