15 Anniversary: Spotlight on Alex Delange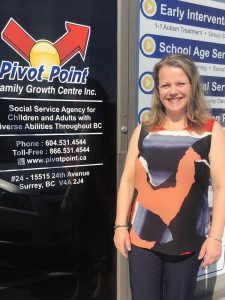 Our 15 year anniversary wouldn't be possible without our hardworking, dedicated team of staff that keep this place running. Today we'd like to spotlight one of our longest-serving employees and most experienced team members, Alex Delange!
Currently celebrating her 9 year anniversary with us, Alex has played a large role in our journey. With a background of over 25 years of experience working directly with children with special needs, we are so grateful Alex chose to be a part of the Pivot Point family.
"Working at Pivot Point has exposed me to a large range of family dynamics that have enriched my understanding of family systems enormously. The diverse nature of our field is really reflected in our clients at Pivot Point. Being able to continuously learn and teach has been the biggest gift over the past nine years."
Alex is a Board Certified Behaviour Analyst, Clinical Supervisor and Staff Trainer. She assists new Behaviour Consultants in supporting their client families, obtains feedback from clients on how programs are running, and is currently revamping our frontline training modules. She plays a huge role in ensuring our services run smoothly, our staff are supported, and our client satisfaction is high.
According to Alex, our biggest strength as an organization is our ability to adapt and tailor programs to our clients needs.
"Our diverse clientele means it is crucial to adapt, individualize, and tailor our services. I am thrilled that Pivot Point understands that and is not afraid to go that extra mile. We've even sent therapists to go along on a family's 3 month vacation because they didn't want to drop therapy and were worried their children's progress would decline while they were abroad! Being able to make that happen was one of the best moments during my time here."
Alex truly embodies our guiding principles here at Pivot Point and we couldn't be more grateful to have her on our team.
"Always with a smile on her face, Alex makes others feel welcome and at ease. She has a gift when it comes to teaching others, whether it is about ABA and supporting clients, or professionalism and respect. Many families have commented how thankful they are to have Alex on their team. I am certainly thankful as well," comments Amber Foster, South Fraser Regional Manager.
To learn more about what the rest of the South Fraser team is up to, check out the South Fraser Regional Page or contact head office to set up a consultation.