COVID-19: May 2022 Update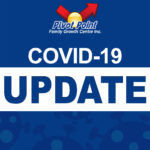 May 5, 2022
Dear Pivot Point families, caregivers, staff and stakeholders,
Since our last update at the end of March, the province seems to have experienced a steady decline in COVID-19 activity.
As we anticipate the decrease to continue through the warmer summer months, Pivot Point has made masks optional for staff, persons served and visitors when in families homes, at our sites and in staff vehicles effective May 1, 2022. Masks will continue to be available at Pivot Point sites for individuals who choose to wear them. Please note that any public health orders issued by the provincial and federal governments supersede our current procedures. For example, at this time, people who have travelled outside Canada are required to wear a mask upon their return for 14 days when in public spaces. If you have been advised to wear a mask then please do so at Pivot Point.
Other infection prevention measures that will remain in place indefinitely:
•

Stay home when sick. Every person must complete the Daily Health Check prior to a session, and must stay home if not feeling well.

•

Wash hands frequently, and maintain physical distancing when possible.

•

Staff will wear protective equipment (masks and gloves) when providing personal care to persons served, and when directed by management to mitigate exposures.

•

Programs will continue to maintain sign-in sheets, and regularly disinfectant wipe-down of high-touch surfaces.

•

The Health and Safety Committee will continue to monitor and send updates as issues arise.
If you have any concerns that you would like addressed in the interim, please don't hesitate to let your Regional Manager know.
Stay Safe and Healthy
Pivot Point Directors