Welcome to the Cowichan & Duncan Region!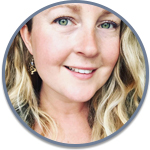 Meet Allison Hutchinson
Tell us a little about what made you choose this career path.
In August 2018 I celebrated my six year anniversary with Pivot Point! I constantly pause throughout the day and feel thankful for the job I have. I'm always learning, being challenged and inspired by my fellow team members and the families we support.
What's one thing you value about working at Pivot Point?
Having grown up in the Cowichan Valley and now raising my children here, this is my home, and I feel a sense of responsibility to ensure that the work we are doing here is meaningful to the families we serve. We are a small community (although growing) where if you talk to someone long enough you usually find that you know at least a few of the same people. It's important to me that we do what we say we're going to do and this starts by working closely with each family to identify their goals and then using the various professionals available within Pivot Point to put a plan in place to achieve them.
Is there anything you'd like people to know about your team?
We have a close-knit team of front line staff who are dedicated and passionate about improving the lives of the individuals and families they work with. Each of our front line staff members bring their own diverse education, knowledge and expertise to their sessions. Some of my favourite characteristics about our team are the constant sharing of ideas, and celebration of the growth we see in our clients and support for one another.
I believe it takes a truly special person to work in a front line role – our team members embody the spirit of compassion and consistency which lead to positive changes in the lives of those they support!
We are currently growing our clinical team in the Cowichan Valley. With a diverse team of professionals located in our community we can best support our families in meeting their goals and making positive changes in their lives. The professionals our families are supported by include: Behaviour Consultants, Counsellors, Education Consultants, Speech Language Pathologists, Occupational Therapists, Family Support Workers and Transition Coordinators.